My Head don swell pass my borry size (i'm so excited). Guess what una? The "One Lovely Blog" award was passed on to NollywoodRave. As im typing this post, i am sheepishly smiling because to me, this is an amazing reward. The award was passed on to me by the wonderful
Relentless Builder
. I thank her for including me on this award, make she continue to recieve success on her site..Amen!
Well enough chit-chat..Oya let's Talk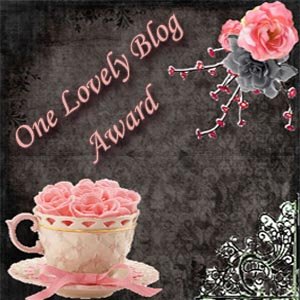 Una noe say happiness dey too dey come with baggage na. So of course this happiness get baggage. The award get some rules you must to dey abide by. so make i list em:
One: You go link back to de perrson wey dash you award.
( link back to the person that gave you the award)
Two: You must complete the form wey dey below
(complete the form below)
Three: You go say seven nonestical thins about you
(Tell seven random things)
Four: you must to tag fifteen oda bloggas! No you no get choice
( Nominate fifteen other bloggers)
Oya, make we begin na!
Name Your Favorite Color:
Red!
Name your Favorite Song:
This one na easy question na!
Forever by Psquare. This song dey make my heart jump beat.
Name your Favorite dessert:
Dessert gini? you mean desert?
which kan dessert...abeg commot for hai jor...I dey try to dey maintain shape, you dey yan about dessert.
(To summarize?... I don't have one)
What Pisses you Off:
*cracks knuckles*
Loud chewers, complainers, Naija people wey no wan claim naija, Loud talkers, People with ABSOLUTELY no sense of humor.
When you are upset,you:
*proper*
When i get upset i hum, and quietly walk away. I listen to music and blog, draw dresses, or call my Sister.
Your Favorite pet:
I will never have a pet of my own, because i will kill it in two day. But of all pets, i would pick a dog. Cute dogs like German Sheperds. Stupid dogs like Chuwawas, if i had a gun eh...
Black or White?
Black. Black goes with anything. I just like the blackness of black. The black in black just makes black so attractive.
Your Biggest Fear:
So that you will come and use it against me abi? Go tell whoever sent you that you did not find me.... You hear?
One of my OTHER fears would be not reaching the highest that i could possibly be.
Everyday Attitude:
I'm going to do it through Christ that strengthens me.
Your Best Feature:
*looking at body*
emmm..would cheeks count? I guess i would say my face.
When i smile, my face lights up so much. I have this little dimples/cave/ watever you want to call it.
What is perfection?
At peace with yourself, your life and others around you, no matter how suckish it may be.
Guilty Pleasure:
Dimples! Lord knows i love me some dimples. Whether its a little puncture, or a cave, its still beautiful. It lights up a man's face and makes their smile contagious.
Seven Random Facts:
1. I am a Nollywood addict.
2. I eat almost everything with lime.
3.I love a happy, positive environment.
4. I procrastinate like Nobodys buiness.
5. I sew and would love to own a fashion line someday.
6. I want to meet Desmond Elliot and Ramsey Nouah
7. I dance
15 Lovely Bloggers i Pass this award on too:
*** Una will have to perdon me oo! New to blogger, do not know a lot of blogs...well at least blogs i like!